FOOT CARE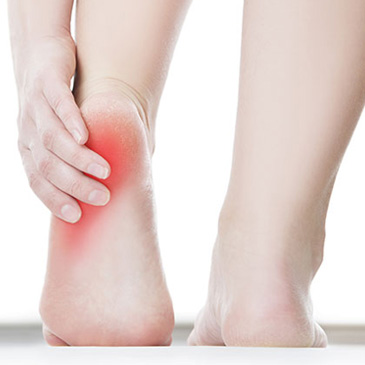 The main pathologies treated are:
Hyperkeratosis, corns, callosities fissures, calluses or partridge eyes are all terms used to describe the thickening of the superficial layer of the skin
, the epidermis. In general, these lesions can be diffuse (calluses) or circumscribed with a certain depth causing pain (horns). Friction, localized excessive pressure in certain areas, dryness of the skin or various conditions such as eczema or psoriasis are all factors that can affect the integrity of the skin.
Foot care aims to remove all calluses safely with a blade.
This is the least irritating method for the skin compared to a pumice, lime or grater. It also allows you to go deeper into the treatment.
Depending on the genetics, age and activities, the nails can change their appearance and shape, become thicker, curved or have a different color. All of these changes can cause discomfort and friction in shoes that can be relieved by foot care.
Ingrown nails occur when the nail pierces the skin around it. The corners can then be well cleared or treated permanently.
Thickening and discolouration can be caused by a fungal infection, also known as onychomycosis, or by previous trauma, rubbing in shoes, nail discolouration, dermatological condition and more.
Foot care is used to thin and trim all nails, even the thickest ones that are resistant to nail clippers used at home. The nails can be thinned significantly to relieve the pain secondary to rubbing in the shoes and also restore a healthy appearance to the nail.
Care is covered by most private insurance plans.
The care of the feet in our clinic is distinguished from the aesthetic care, because the main goal is to relieve the pains that can be brought by these dermatological and nail diseases. In addition, all instruments are sterilized to prevent infections and maintain good hygiene.
Do not wait any longer and give your feet the care they deserve!
Latest From Our Blog
Get a radiant complexion in time for the
Valentine's Day!
This is the perfect time to give love to your skin.
Zero blemishes on your skin
What could be sexier than soft skin! Whether it's your face or your […]
INTRACEUTICALS OXYGEN INFUSED SERUMS TREATMENTS… INSTANT VISIBLE RESULTS
Intraceuticals Oxygen Infusion Therapy, also known as Madonna Facial or Celebrity Facial, is a non-invasive treatment that targets fine lines, wrinkles and significantly improves skin hydration. It also […]
With the years, the skin accumulates imperfections: wrinkles and fine lines, damages by the sun, scars, brown spots, black spots, stretch marks, etc. And if there was a technique without pain to give a shine […]